Into English, I translate from Thai, Isan, and Lao.
Into Thai and Isan, I translate from English and Spanish.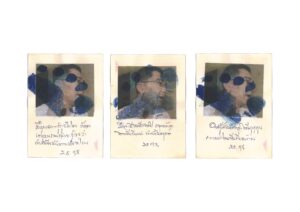 "Worachet's Hate Mail: Selections"
Siddhi-Issara Foundation, 2022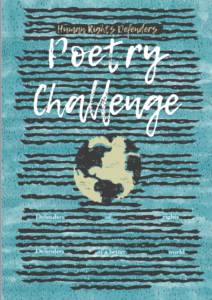 Five poems from Thailand, Protection International's Human Rights Defenders Poetry Challenge, 2022.
• "Madhumans Who Dare To Dream" by Songphon Sonthirak
• "Remember, we're all by your side" by Mek Krueng Fah (3rd Place Winner globally)
• "What is human" by Hatairatt Jaturawatana
• "Fix" by Prachya Pongpanich
• "To Little Sia" by Jakraphong Soungchomphan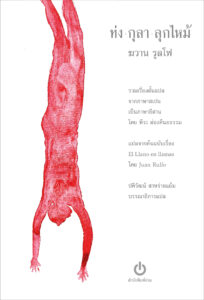 The Isan-language translation of El Llano en llamas by Juan Rulfo, published in 2018 by Aan (Read) Publishing.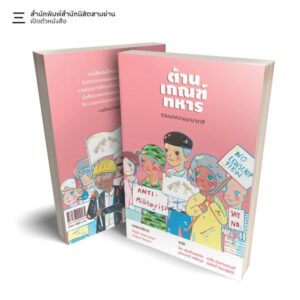 The Thai edition of Conscientious Objection: Resisting Militarized Society, published in 2020 by Nisit Samyan Press. [Translation editor]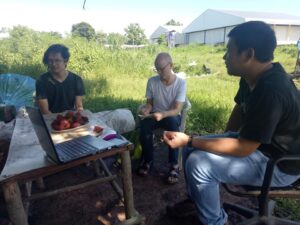 Into Thai, "Conjuring the People: Entrepreneurial Localism and the Case of the Khon Kaen Model" by Richard MacDonald, Way Magazine, 2021.
[Part 1 of Thai translation] [Part 2 of Thai translation]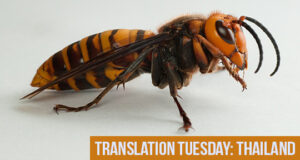 Into English, "The Progress of Josef K.'s Trial and the Appearance of a Tiger Hornet" by Phu Kradat, Asymptote Journal's Blog, 2021.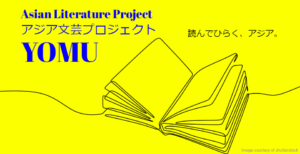 Into English, "A Wet-Garbage Kid's Taamlie" by Prapt, Japan Foundation Asia Center's Asian Literature Project "YOMU," 2022.
[A short story set in a dystopian uber-Thai universe, exploiting Isan language in its dramatization of social inequality in a public health and political crisis.]
Into English, A Song of Forgiveness *Within* by Patiwat Saraiyaem. A selection of Isan performance poems penned in and out of prison. Above is a video reading of the title poem. Video courtesy of Tyrell Haberkorn from the final event of the translation workshop Public/Scholarship on Nov 18/19, 2020.
Published works from this project:
• "In Remembrance of Kru Krong Chandavong," DinDeng, 2022.
•  "Lao Phaen, 11/4/2015", Center For Southeast Asian Studies University of Wisconsin–Madison's Justice in Translation Series, 2022.
•  "Beware of killers who blend in with caterpillars," Mekong Review, 2021.
---
In 2021, I co-founded Sanam Ratsadon: An Archive of Common(er) Feelings, and have been doing and curating translations of historic texts, art performances, and oral histories published on a quarterly basis. I'm very proud of my contributions on there so far.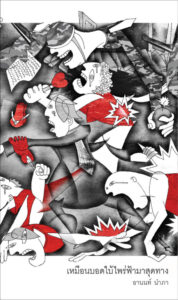 For the theme "Mothers": two poems from the collection We subjects, as if mute and blind, have found ourselves at the end of the line (2011) by Arnon Nampa.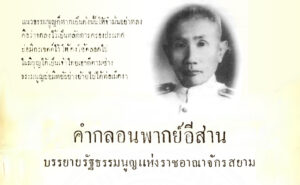 For the theme "Con-sti-ti-ti-ti-ti-tew-tion":  an excerpt from A Poem in Isan Explaining the Constitution of the Kingdom of Siam (1935) by Khun Phrom Prasart.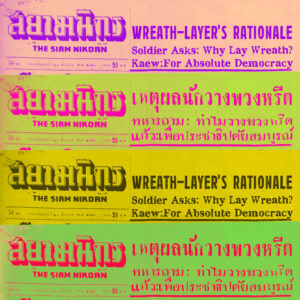 "The First DIY Guy at the Democracy Monument"
Newspaper clippings from 1947 by Nowwanij Siriphatiwirut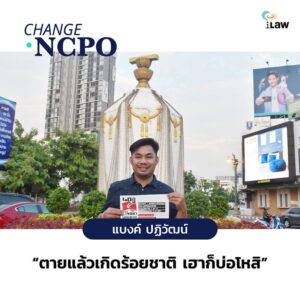 For the theme "Madman, Madwoman, Madhuman":
"I'll live out a hundred lifetimes, but they won't have my forgiveness"
Two interviews with Patiwat Saraiyaem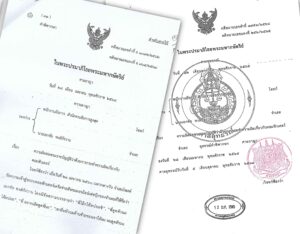 For the theme "How Obscene‽"
"The Obscenity Case Against Ekkachai Hongkangwan"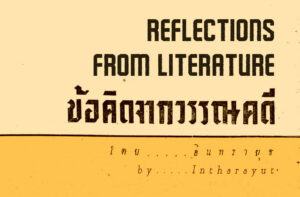 "Against Feudal Obscenity"
Two articles by Intharayut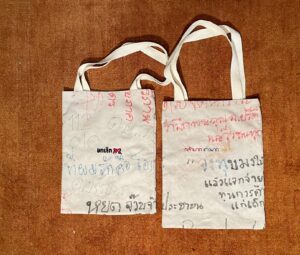 "the pickpocket who got in our pants"
A poem by Inthuch